Back to all posts
Posted on
Saint John Paul II Feast Day Friday October 22nd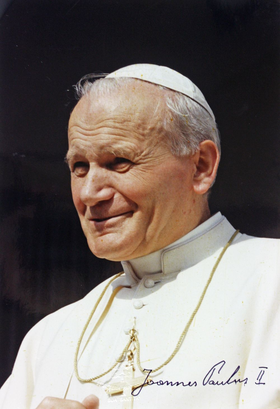 Saint John Paul II
May 18, 1920-April 2, 2005

Born: Karol Josef Wojtyla
Feast Day: October 22
Patron Saint: World Youth Day
Video about St. John Paul: John Paul II: A look back at the life of a Saint
Saint John Paul II Prayer
Heavenly Father,
grant that we may bear witness to your mercy.
Teach us how to convey the faith to those in doubt,
hope to those who are discouraged,
love to those who feel indifferent,
forgiveness to those who have done wrong
and joy to those who are unhappy.
Allow the spark of merciful love
that you have enkindled within us
become a fire that can transform hearts
and renew the face of the earth.
St.John Paul II...
Pray for Us!