Back to all posts
Posted on
First Annual Family Game Night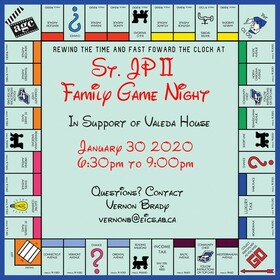 On Thursday, January 30th from 6:30 - 9:00 pm, We will have the first ever family games night at St. John Paul II. Take a break from technology for a couple of hours as you explore old favorites from your childhood as well as seeing new games that could become your new go to family night game.
This event has two objectives:
The first objective is to create a time and place where friends and families to come to St. John Paul II to enjoy an evening playing board and card games. We are blessed to have Brian, the owner of Table Top Cafe in Edmonton, bringing out some games for people to try and if they enjoy them, he will have some for purchase. Brian tells me that the game she is bringing will be pretty straight forward and true family fun games. Families and individuals are also encouraged to bring their favorite games to share with others. Make sure they are labeled so you don't lose them.
The second objective is to continue supporting Valeda House through our fundraising efforts. The games night will run no matter what. We are accepting voluntary donations that will go towards supporting the women of Valeda House who are striving to overcome the challenges they are facing.
Suggested Donation
$5 per Person
$15 - $20 per Family
Please email Vernon Brady at vernonb@eics.ab.ca to let him know you will be attending along with how many will be joining you.
This allows him to gauge approximately how many will be attending to ensure space and games for all