2019 Alberta / Japan Two-Week Exchange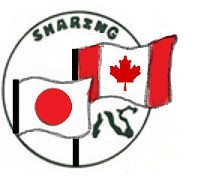 4th Edmonton-Japan Exchange
***There will be an information evening on Tuesday, April 10 at St. JPII, in the Library. 7:00 pm
Dates for the 2019 Exchange:

North America Exchange

Yamate arriving in Edmonton: April 12 th (Friday)
Departing: April 26th (Friday)

Return Visit

Edmonton students arriving in Japan: July 20th (Saturday). (To arrive in Japan on July 20th, you will need to leave on Friday, July 19th.)
Departing Japan: August 3rd (Saturday)
Should you wish to Billet, please fill out the attached form and return it to Ms. Zaleschuk. Quest for Billets 2019
Please send any inquiries to Ms. Zaleschuk at elaanz@eics.ab.ca
Purpose
This short-term reciprocal student exchange program is designed to give Alberta students an opportunity to learn more about Japan and its culture and to give Japanese students a similar opportunity to learn about Canada.
http://www.education.gov.ab.ca/nie/exchange/Student/Yamate/
http://www.yamate-gakuin.ac.jp/english/
Objectives -
- To enable high school students to experience family and school life in another country
- To establish international contacts
- To develop an understanding of another culture
- To promote international understanding
Yamate Gakuin
Yamate is a private co-educational school located in Yokohama, Japan. The school, which was founded in 1966, provides a liberal education emphasizing responsible participation in community and international affairs. An international excursion is an integral part of the school's educational program and is compulsory for all Grade 11 students. Field trips to the United States and Canada and the return visits from American and Canadian students have been prominent events for the school for the past 36 years.
Exchange Program
Each April 2019, approximately 160 Yamate students come to Alberta for two weeks. During this period they are billeted with Alberta families and attend classes in their host school. In July2019, Alberta students pay a return visit to Japan and stay with Japanese families. Yamate Gakuin organizes some special day tours for the visiting students. The only costs to the Alberta student are airfare, ground transportation, insurance and spending money. 
Any hosting student from a hosting school may apply for the return visit, but, if some extra spaces are available, other students from those hosting schools can apply.
In the 2018-2019 school year, the Yamate students will exchange with the Edmonton & Area Schools. There are 8 schools involved in this program. (a 3 – year cycle – Edmonton, Calgary, Red Deer)
Approximately 160 Yamate students will arrive Friday April 12 in Edmonton to stay 2 weeks until Friday April 26, 2019 with their Edmonton area hosts. The schools involved are John Paul II, Archbishop Jordan, Salisbury Composite, Jasper Place, Strathcona Composite, Louis St. Laurent, Sturgeon Composite and St. Peter the Apostle (Spruce Grove).
In July 2019, all schools participating in hosting will send students to Yokohama, Japan for 2 weeks on the reciprocal exchange. The chaperones will be from the participating schools.
Itinerary In Japan 
Friday., July 19- Saturday, Aug. 3, 2019 
Fri July 19 – leave Edm/Vanc – for Tokyo
Sat July 20 – arrive Tokyo, bus to Yamate Gakuin School, hosted by parents
Sun July 21 – with host family
Mon July 22 - with host family
Tue July 23-with host family
Wed July 24 – Tokyo Excursion
Thurs July 25 - with host family
Fri uly 26 - Yokohama Excursion
Sat July 27 – with host family
Sun July 28 - Cultural day hosted by Yamate Parent's association 10:00 – 12:00
Mon July 29 - with host family
Tue July 30 – with host family
Wed Aug 31 - Disneyland tour hosted by Yamate Parent's association
Thur Aug 1 - with host family
Fri Aug 2- with host family
Sat Aug 3 - leave for Canada